Making a Sweet Peas Glass Bottle Table Decoration Vase
How to make a great looking sweet pea glass bottle table decoration – ideal for weddings, tables, windows and more
Stunning vase design made very cheaply and looks stunning!
Step 1
Remove Stickers from a suitable glass bottle or vase you wish to use
Step 2
Wash out the glass bottle and allow time to dry
Step 3
Fill the glass vase bottle up to the neck of the glass with fresh clean room temperature water
Step 4
Cut fresh sweet pea flowers from the garden making sure you include the stems to fit the length of the glass
Step 5
Place sweet pea flowers with the long stems in the glass bottle vase and enjoy this great looking table decoration
The aroma given off from the sweet pea flowers will last for a few days, bringing the outdoors indoors for a relative low cost.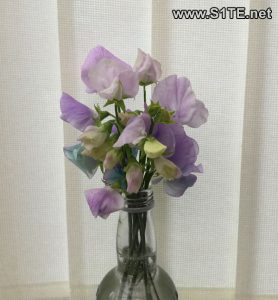 Ideal for tables, weddings and more.
Sweet Peas provide a great scent throughout the home!